Advantages of gene synthesis
The period of synthesis is short, and we can guarantee the sequence is 100% correct.
We are able to optimize the codons in order to raise gene expression efficiency.
Even if we only know the sequences of proteins and peptides and don't know the nucleotide sequence, we can still clone and express them via gene synthesis.
We are also able to mutate or change a gene at a specific point in the gene.
We can design new genes according to the will of researchers. In this way, you will acquire rare or non-existed genes.
(1) client first need fill in the order form and provide the information of target gene's name, CDS sequence, gene ID in Gene Bank, and we will provide the quotation to the client. (2) Once confirmed the quotation, GeneParma will sign the service contract and confidentiality agreement with the client, after construct finished, GenePharma will sequence the reconstructed plasmids and ensure the accuracy of the sequence. (3) finally, GenePharma will provide the produts to the customers which include Color sequencing peak figure, the recombinant plasmids inserted the target sequence and the Glycerol broth of E.coli with the recombinant plasmids inside.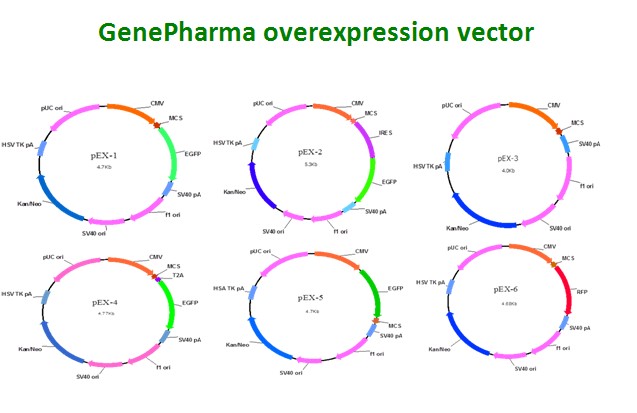 Catalog code

Vector name

prompter

Fluorescent label

Nuclear resistence

Prokaryotes
resistence

pEX-1

pGCMV/MCS/EGFP/Neo

CMV

EGFP

Neo

Kan

pEX-2

pGCMV/MCS/IRES/EGFP/Neo

CMV

EGFP

Neo

Kan

pEX-3

pGCMV/MCS/Neo

CMV

--

Neo

Kan

pEX-4

pGCMV/MCS/T2A/EGFP/Neo

CMV

EGFP

Neo

Kan

pEX-5

pGCMV/EGFP/MCS/Neo

CMV

EGFP

Neo

Kan

pEX-6

pGCMV/MCS/RFP/Neo

CMV

RFP

Neo

Kan

pEX-7

pGCMV/RFP/MCS/Neo

CMV

RFP

Neo

Kan