GenePharma can help saving you money and time by cloning any gene of interest into a highly efficient and reliable overexpression vector for you. We guarantee the gene sequence is 100% correct. You only need to provide us with the gene's name (gene ID in GenBank) or nucleic acid sequence. Even if only the amino acid sequence of the corresponding protein is known, we can still clone and express them via our gene synthesis methods. Also, we can mutate or change a gene at any specific point or even design completely new genes according to the customers wishes.
With GenePharma's Gene Synthesis Service you are guaranteed of:
Rapid synthesis and product delivery.
100% correct gene sequence.
Codon optimization in order to achieve maximal gene expression efficiency.
The service procedure for Gene Synthesis is as follows:
1. Fill in the order form  and provide information on the target gene's name, CDS sequence and gene ID in GenBank. We will provide you with a quotation. Upon approval, GenePharma will provide a signed service contract and confidentiality agreement.
2. After finishing construction of the overexpression vector, GenePharma will sequence the reconstructed plasmids and ensure the accuracy of the sequence.
3. GenePharma will deliver the products, which include:
The recombinant plasmids with the inserted target sequence, stored in E. coli glycerol broth.
A DNA sequence chromatogram (colored peak figure) of the overexpression vector.
Available GenePharma overexpression vectors

Catalog code

Vector name

prompter

Fluorescent label

Nuclear resistance

Prokaryotes
resistance

pEX-1

pGCMV/MCS/EGFP/Neo

CMV

EGFP

Neo

Kan

pEX-2

pGCMV/MCS/IRES/EGFP/Neo

CMV

EGFP

Neo

Kan

pEX-3

pGCMV/MCS/Neo

CMV

--

Neo

Kan

pEX-4

pGCMV/MCS/T2A/EGFP/Neo

CMV

EGFP

Neo

Kan

pEX-5

pGCMV/EGFP/MCS/Neo

CMV

EGFP

Neo

Kan

pEX-6

pGCMV/MCS/RFP/Neo

CMV

RFP

Neo

Kan

pEX-7

pGCMV/RFP/MCS/Neo

CMV

RFP

Neo

Kan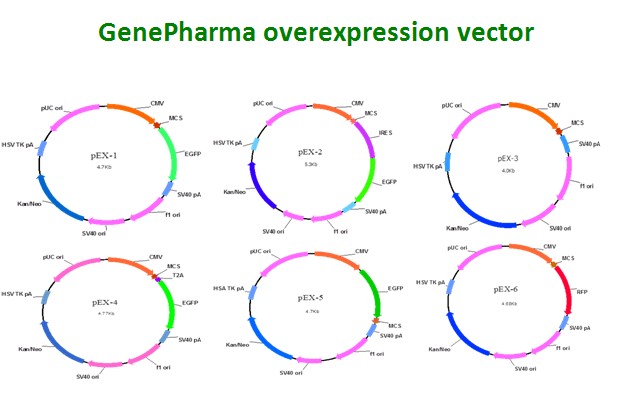 For technical assistance, email support@genepharma.com. For questions related to order placement, email bd@genepharma.com.